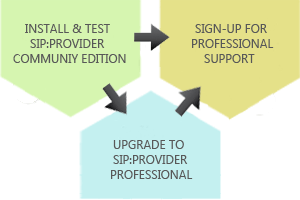 Sipwise exhibited at the 2016 AngaCOM at Cologne
Sipwise has been a regular exhibitor at the AngaCOM fair in Cologne, which is one of the most recognised events for the communication industry in Germany. In 2016, Sipwise had a 60 m2 stand to showcase its unified communication products to a high qualified audience, such as cable network operators, telecommunication providers and internet telephony service providers.
"For us, AngaCOM is one of the most important events in the German-speaking region" stated Martin Kastner, Director Sales at Sipwise. "This is a great chance to meet interesting people from all over the industry and to show them what we can do in terms of the latest IP communication demands", Martin added.
For Sipwise, this year's focus on AngaCOM was on hosted PBX solutions and on real-time communication applications for different communication needs like customer support or business services.
Sipwise is constantly improving and expanding the existing product range to meet the fast-changing needs of the communication industry. The feedback from several discussions at AngaCOM shows that there is an increasing demand in terms of combining cost effectiveness and product resilience in one go. Sipwise has proven to manage this balancing act with its Class 5 Softswitch and hosted PBX solutions and to constantly develop new unified communication solutions like the RTC:engine at the same time.
To find out more about us, please visit our Solutions portfolio or contact us directly.
About Sipwise
Sipwise unified communication platforms are targeted at fixed, converged and wireless service providers supporting a variety of access technologies like Cable, xDSL, FTTx, WiFi and WiMAX, as well as "Over-the-Top" operators.
With years of expertise in VoIP and UC solutions, Sipwise works with clients on all continents and is servicing over 65 Telcos in 25 countries worldwide. Sipwise offers an unbeaten price-to-performance ratio to communication service providers, with ease of integration towards their technical, OSS and BSS infrastructure, as well as outstanding flexibility.
For more information, please visit http://www.sipwise.com.