Sip Trunking
is the voice over IP method to offer telephony services to businesses and residential entities using their existing internet pipelines. The benefits are lower cost, higher quality of service, higher availability and flexibility. On top of usually telephony services with the help of SIP protocol subscribers can benefit of advanced features like unified communications, video calls, large file sharing and IP TV.
Telephony bundle services
Internet service providers have the opportunity to offer their customers features like unified communication, secure private communication, conference numbers and instant messaging.
PSTN Interconnection
With our C4 media gateway operators can interconnect to existing public switched telephony networks and offer voice origination and termination as well as number portability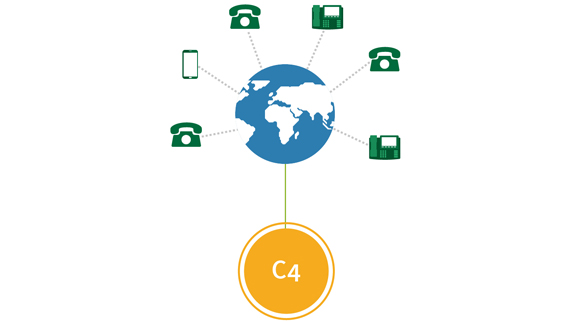 Dedicated scalable VOIP PBX
For medium to large enterprises a VOIP PBX solution can satisfy the internal need for voice video communication and adds value and flexibility for the IT department in managing VOIP traffic towards outside destinations.
Unified communication and file sharing
using our Sip:phone client, subscribers can share large files between each other and also benefit of the unified communication features provided by the Sip protocol.
Mobile App
With our Sip:phone mobile app, all CPBX functionalities can easily be expanded to smart phones and tablets which ensures the modern convergence of the fixed line phone with mobile devices. In combination with our CPBX, Sip:phone provides a lot of communication flexibility and helps to economize on the telephony costs of any organization.