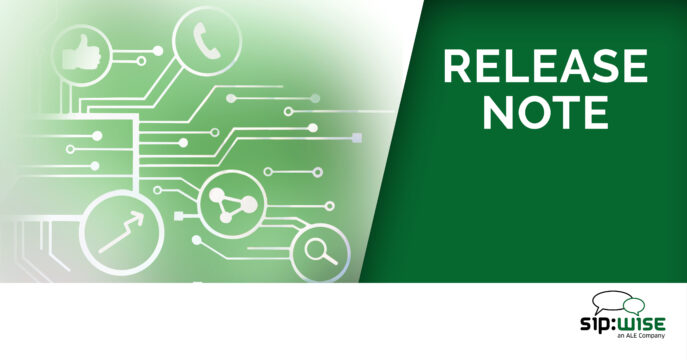 Release Note mr9.0 – mr9.5
As time evolves, so do our products which we are constantly refined by adding brand new features and fixing any bugs. Check out our current release note for the latest updates: It is a collection of all mr9.x features developed within mr9.0-mr9.5 circle and are available in mr9.5 LTS.
Overview:
Latest Debian
cPBX improvements
STIR/SHAKEN
TR Notruf 2.0 for Germany
A/B Upgrade
CSTA API
SNOM devices autoprovisioning
Debug proxy
Snapshot of further improvements and new functionality
Deprecation list
Latest Debian
With the latest Version of the Debian OS you will get all the most recent improvements regarding stability and security as well as the support for the latest hardware.
cPBX improvements
In our latest release we were able to significantly improve the stability and performance of our cPBX. On the same hardware, the cPBX call processing performance almost doubled with an even higher reliability than in earlier releases.
STIR/SHAKEN
For our Canadian and US customers we provide a full implementation of en.wikipedia.org/wiki/STIR/SHAKEN in order to fight caller ID spoofing. STIR/SHAKEN is a requirement since June 30th 2021, requested by the Canadian Radio-television and Telecommunications Commission and the Federal Communications Commission for the US.
STIR/SHAKEN, is a suite of protocols and procedures intended to combat caller ID spoofing on public telephone networks. Caller ID spoofing is used by robocallers to mask their identity or to make it appear the call is from a legitimate source, often a nearby phone number with the same area code and exchange, or from well-known agencies like the Internal Revenue Service or Ontario Provincial Police. This sort of spoofing is common for calls originating from voice-over-IP (VoIP) systems, which can be located anywhere in the world. (c) Wikipedia
TR Notruf 2.0 for Germany
TR-Notruf 2.0 is an add-on to the already existing requirements of how to handle emergency calls for German voice operators. To be compliant with the TR-Notruf 2.0 standard is obligatory as of August 22nd 2021. All the details can be found on www.bundesnetzagentur.de.
A/B Upgrade
Introduction of a second partition for system upgrades which significantly improves the duration of the upgrade and reduces the preparation effort. Additionally, the second partition will enable an immediate roll-back in future releases.
CSTA API
Support of CSTA API in order to control and monitor PBX calls and devices.
SNOM devices autoprovisioning
The following SNOM devices were added for auto provisioning on the Sipwise cPBX: D715, D717, D735, D785, M900:
Debug proxy
With the introduction of the debug proxy our customers will be able to separate single customers and peering endpoints via a dedicated proxy, either on hardware or on existing virtualised environments. This improves the troubleshooting capabilities because specific use cases can be reproduced on production systems without any harm or risk to other customers or peerings. This although the testing is done live including existing surrounding systems (OSS/BSS) taken into account.

Snapshot of further improvements and new functionality
T38 transcoding
advanced AOC (Advice of Charge) handling
support for CN (Comfort Noise)
new ALARM MIB for better alarm and fault management
improved codec negotiation in case of transcoding
And many more!
Deprecation list
The detailed list is available in a per-release release notes:
Any question left about the release note? Contact our sales team for further information: www.sipwise.com/company/contact.