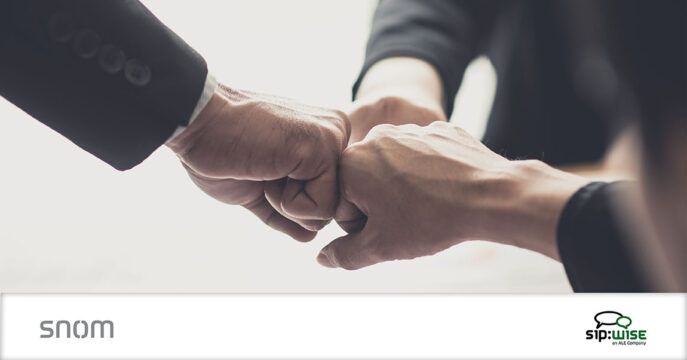 Two for the international stage: Snom and Sipwise in strategic telephony partnership
Snom, a recognized manufacturer of IP phones for the business and industrial sectors, and Sipwise are now working even more closely together. Numerous customers around the world will be pleased. Even the most complex installations should now be possible without much effort.
The core of the partnership between the two companies is that Sipwise integrates Snom's entire portfolio into its product range – including the highly professional forwarding and provisioning tool SRAPS (Secure Redirection and Provisioning Service) for the completely location-independent zero-touch deployment of Snom phones. SRAPS helps to configure settings from a distance via remote management, to analyze errors and in many cases to fix them remotely.
Alexander Lutay, Vice President of Development, Sipwise GmbH:
"We always enjoy working with Snom's competent engineers, who were interested in efficiently merging our systems from the very beginning. We are convinced that the combination of Sipwise and Snom solutions will provide our customers with more flexibility, as well as time and cost advantages. "
Mark Wiegleb, Head of Interop & Integration, Snom Technology GmbH, also looks forward to the future in view of the cooperation:
"The integration of Sipwise has made us very happy, as the company is very internationally positioned, similar to Snom. Especially our common large customer base will benefit from the cooperation."
About Sipwise
Sipwise's unified communication platforms are targeted at fixed, converged and wireless service providers supporting a variety of access technologies like mobile, radio, Cable, xDSL, FTTx, WiFi and WiMAX.
With years of expertise in VoIP and UC solutions, Sipwise works with clients all over the world and is supporting over 100 commercial deployments by MNOs, MVNOs, Telcos, cable network providers, utilities and "Over-the-Top"- operators.
For more information, please visit https://www.sipwise.com.