sip:provider mr3.7.2 Released
We are excited to announce the general availability of sip:providerCE mr3.7.2 and sip:providerPRO mr3.7.2.
What's the sip:provider platform?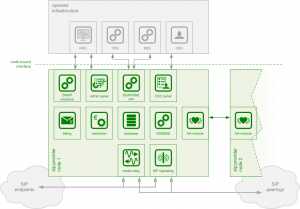 The Sipwise sip:provider platform is a highly versatile open source based VoIP soft-switch for ISPs and ITSPs to serve large numbers of SIP subscribers. It leverages existing building blocks like Kamailio, Sems and Asterisk to create a feature-rich and high-performance system by glueing them together in a best-practice approach and implementing missing pieces on top of it.
Sipwise engineers have been working with Asterisk and Kamailio (and its predecessors SER and OpenSER) since 2004, and have roles on the management board of Kamailio and are contributing to these projects both in terms of patches and also financially by sponsoring development tasks. The sip:provider platform is available as a Community Edition (SPCE), which is fully free and open source, and as a commercial PRO appliance shipped turn-key in a high availability setup.
The SPCE provides secure and feature-rich voice and video communication to end customers (voice, video, instant messaging, presence, buddy lists, file transfer, screen sharing, remote desktop control) and connect them to other SIP-, Mobile- or traditional PSTN-networks. It can therefore act as open Skype replacement system, traditional PSTN replacement, Over-The-Top (OTT) platform and also as a Session Border Controller in front of existing VoIP services in order to enable signaling encryption, IPv6 support, fraud- and Denial-of-Service prevention. Another use-case is to act as a Class4 SIP concentrator to bundle multiple SIP peerings for other VoIP services.
What's new in mr3.7.2?
The build mr3.7.2 contains the set of fixes for release mr3.7. No new features added to mr3.7.2. See the full list of changes at the end of the announce.
How do I test-drive the new version?
As usual, we're providing a VMWare Image, a Virtualbox Image and a Vagrant Box for quick evaluation testing. For those of you using Amazon Cloud we provide the EC2 AMIs in the following regions:
AMI ID for region us-east-1: ami-be451fd6
AMI ID for region us-west-2: ami-e3d3f0d3
AMI ID for region us-west-1: ami-cf59bd8b
AMI ID for region eu-central-1: ami-4ead9f53
AMI ID for region eu-west-1: ami-9754c7e0
AMI ID for region ap-southeast-1: ami-de487e8c
AMI ID for region ap-southeast-2: ami-c1a7d6fb
AMI ID for region ap-northeast-1: ami-670ae367
AMI ID for region sa-east-1: ami-cf3d84d2
Check the relevant section in the Handbook for detailed instructions.
How do I install the new version or upgrade from an older one?
For new users, please follow the Installation Instructions in the Handbook to set up the SPCE mr3.7.2 from scratch.
For the users of the previous version of the SPCE, please follow the upgrade procedure outlined in the Handbook. If you have customized your configurations using customtt.tt2 files, you must migrate your changes to the new configuration files after the upgrade, otherwise all your calls will most certainly fail.
How can I contribute to the project?
Over the last months we've started to publish our software components at github.com/sipwise. This is still an on-going effort, which is done on a component-per-component basis. Please check back regularly for new projects to appear there, and feel free to fork them and send us pull requests. For development related questions, please subscribe to our SPCE-Dev Mailing-List at lists.sipwise.com/listinfo/spce-dev.
What's coming up next?
The mr3.7.2 build is stabilization/bugfixes build, so contains no new features. We are preparing some exciting new features for the upcoming mr3.8.1. Also, there will be some further enhancements to the REST-API, so any feedback on the current state is highly appreciated. The SOAP/XMLRPC APIs have been migrated to Nginx and disabled by default in the previous build mr3.7.1. You may switch it on using config.yml setting ossbss->frontend:fcgi, but those obsolete APIs are going to be deleted in the upcoming release(s).
Acknowledgements
We want to thank our PRO customers and the SPCE community for their feedback, bug reports and feature suggestions to make this release happen. We hope you enjoy using the mr3.7.2 build and keep your input coming. A big thank you also to all the developers of Kamailio, Sems and Prosody, who make it possible for us to provide an innovative and future-proof SIP/XMPP engine as the core of our platform! And last but not least a HUGE thank you to the Sipwise development team, who worked insanely hard to create this release. You are awesome!
Full Changelog of Bugfixes and Enhancements
MT#11947 Error validating sipwise keyring on CE install CD
MT#11891 Rewrite rule's priority change does not trigger xmlrpc request
MT#11879 Prosody console still listen on loopback even if dummy0 with sip_int is specified
MT#11753 BLF NOTIFY is sent without body in mr3.7.1
MT#11741 Add API function to download device front/mac images
MT#11737 Fraud-lock script fails to find voip contract
MT#11733 Wrong ngcp-event-exporter cron configuration
MT#11719 Looks like we start hylafax before iaxmodem during the takeover
MT#11659 [PBX] sems change the sound cache path to be consistent with audio_cache module
MT#11651 Issues with CFT for cloud PBX subscribers
MT#11647 Wrong content-type in response header for panasonic config
MT#11595 ossbss/mysql_values.cfg.services: SQL error Column count doesn't match value count
MT#11569 Uploading new MOH in a soundset still plays the old one
MT#11549 Search and find subscriber by Alias number
MT#11523 CloudPBX: Add Cisco 504G with one and two 500S consoles
MT#11521 Call drops when selecting AA slot that is not configured
MT#11517 API REST: PBX Hunt-Group creation/update do not set correctly cloud_pbx_hunt_timeout
MT#11515 Asterisk voicemail.conf not filled correctly by ngcpcfg apply
MT#11499 Reminder call does not work in mr3.7.1
MT#11467 P-Callee-UUID is '0' in case of circular ringing
MT#11377 Implement fallback to system sound set for callqueue
MT#11371 /usr/lib/ngcp-ngcpcfg/get_default_pingnodes grepping commented nameserver
MT#11321 Problem with "Peering Costs" and source_carrier_cost
MT#11299 Wrong P-App-Params on call from PBX to AA/OH
MT#11295 Adding Session-Expires header to the SEMS whitelist by default
MT#11285 500 http response code in the panel in Device->dev_field_config
MT#11279 Add config option to skip device bootstrap vendor RPC calls
MT#11243 [Carrier] Add ability to completle disable PXE boot ( dnsmasq )
MT#11241 Several improvements for confpin.dsm
MT#11239 dsm/mod_utils: rename the prompts for single digits after the tens
MT#11237 [PBX] Fix MWI on for removed line
MT#11233 extra_socket currently broken in mr3.7.1
MT#11219 Load default sound files from file system and provide fallback from customer to system
MT#11125 ngcp-prosody-modules: starts prosody on all active nodes
MT#11123 Fixed wheezy based NGCP cannot be installed due to new MySQL 5.5.41-0+wheezy1 (error: No database selected)
MT#11069 Fixed prosody, prevent istening in all interfaces
MT#11063 [Carrier] Move PXE boot configuration to ngcp templates framework
MT#11005 cloud_pbx_callqueue on huntgroup subscriber
MT#10965 Unable to remove CFU with timeset via REST API
MT#10931 Do not generate "oldmediaip" from SDP for calls through the system
MT#10885 Prevent cascading of group deletion in ngcp-schema
MT#10879 Primary number can not be set to null if it has been already set
MT#10855 wrong monitrc configuration for iaxmodem in mr3.6.1
MT#10705 CloudPBX: Allow to set group members from within group
MT#10587 Implement basic Yealink auto-provisioning
MT#10581 motd not in etckeeper gitignore file
MT#10367 Make language for voicemail/conference sounds a user preference
MT#10337 Add update/override to cloudpbx-devices tool
MT#10315 Setting lock level on subscriber creation via REST API does not work as expected
MT#10277 Release specific deployment.sh
MT#10199 Add NCOS Level in Subscriber Profile
MT#10159 vmnotify it is not triggered if you read/delete VM from NGCP Panel
MT#9453 Some improvements order to disable call forward
MT#8591 With sst_enable=no, Session-Expires, Min-SE are not propagated but "Supported: timer" yes.
MT#8307 ngcp-fraud-auto-lock does not filter out peering contracts
MT#8129 PIN code for entrance to conference room
MT#5585 NGCP-Panel: missed column "charges" for CDRs list