Sipwise C5 mr11.2.1 Released
We are excited to announce the general availability of the Sipwise C5CE and C5PRO mr11.2.1 release.
What is the Sipwise C5 platform?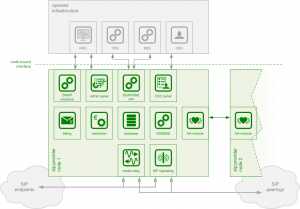 The Sipwise C5 platform is a highly versatile open source based VoIP soft-switch for ISPs and ITSPs to serve large numbers of SIP subscribers. It leverages existing building blocks like Kamailio, Sems and Asterisk to create a feature-rich and high-performance system by glueing them together in a best-practice approach and implementing missing pieces on top of it. Sipwise engineers have been working with Asterisk and Kamailio (and its predecessors SER and OpenSER) since 2004, and have roles on the management board of Kamailio and are contributing to these projects both in terms of patches and also financially by sponsoring development tasks. The Sipwise C5 platform is available as a Community Edition (CE), which is fully free and open source, and as a commercial PRO appliance shipped turn-key in a high availability setup. The Sipwise C5 provides secure and feature-rich voice and video communication to end customers (voice, video, instant messaging, presence, buddy lists, file transfer, screen sharing, remote desktop control) and connect them to other SIP-, Mobile- or traditional PSTN-networks. It can therefore act as open Skype replacement system, traditional PSTN replacement, Over-The-Top (OTT) platform and also as a Session Border Controller in front of existing VoIP services in order to enable signaling encryption, IPv6 support, fraud- and Denial-of-Service prevention. Another use-case is to act as a Class4 SIP concentrator to bundle multiple SIP peerings for other VoIP services.
What's new in mr11.2.1?
The most important changes for mr11.2 compared to mr11.1 are:
[TT#178602] [PRO/Carrier] TPCC: Add a support of preferred audio codecs list for MakeCall and ConsultationCall APIs.

[MT#55636] [PRO/Carrier] TPCC: Add a support of Early leg termination with a specified SIP code/reason, ClearConnection API.

[MT#56078] Voicemail: Add the new asterisk.voicemail.transmit_silence parameter in config.yml, to keep sending RTP
packets even during voicemail message recording.

[TT#55447] Add optional support for a third-party provided implementation of the EVS audio codec. Support for EVS
is not directly included as EVS requires an additional third-party license, but support can be enabled
if an implementation is provided.

[MT#55795] Added kamailio.proxy.permissions_max_subnets in config.yml. Now it is possible to specify in config.yml
the max number of allowed_ips (ip or subnets) entries the system can accept. Default value is 512.

[MT#55858] Unified 302 call flow with internal CFB/CFT behavior.

[MT#56234] Subscriber's preference 'ringtimeout' is now hidden from the preferences list and available only when
configuring a new call forward on timeout. This to avoid misunderstanding and unwanted setup.

[MT#53595] Subscriber's profiles have been reworked in order to simplify its usage.

[MT#32998] [PRO/Carrier] The PBX Seats and Groups configuration in the CSC of Subscriber's Administrators
are now opened in a dedicated page. This simplify the configuration and let the possibility to extend it
in the future with additional parameters.

[MT#33000] [PRO/Carrier] PBX Subscriber's Administrators can now configure, using the CSC, the CLI of the
other subscribers belonging to the same Customer PBX. The selection is restricted to the following values:
primay number and aliases associated to the configured subscriber, primary number of the other subscribers
of the PBX.

[MT#32999] [PRO/Carrier] PBX Subscriber's Administrators can now configure, using the CSC, the Call forward
of the other subscribers belonging to the same Customer PBX.

[MT#55932] [PRO/Carrier] New device preference 'user_conf_priority' is available. If set it avoids that the
settings done by users manually on the phone devices are overwritten by the automated provisioning coming
from the server. It is currently only supported by ALE and Yealink devices.

[MT#55450] [PRO/Carrier] Device provisioning feature has been extended adding new supported types of softkeys:
Speeddial, Forward and Transfer. The first one allows to configure a number that can be quickly dialed, the
second allows to easily redirect an incoming call to a predefined number, the third allows to transfer an active
call to another number. It is currently only supported by ALE, Yealink and Snom devices.

[MT#56090] The configuration option general.maintenance was moved from config.yml to a new maintenance.yml file.

[MT#54588] [PRO/Carrier] Add support for faxserver instances

[MT#55680] New NCOS Set feature is now available! It allows to create sets of NCOS Levels and assign them to
domains/subscribers useing the new preferences 'adm_ncos_set_id', 'ncos_set_id' and 'adm_cf_ncos_set_id'.

[MT#55680] Now the system allows to assign a timeset to NCOS Levels. This allows to restrict the limitation
of the level to some specific time condition.

[MT#55349] New Customer Speed Dial feature. Customers can now create a list of 1000 speed dial numbers each
(from 000 to 999) that can be used by all the subscribers belonging to it. The VSC code to use them is the
same already in place for subscriber speeddial (by default *1) followed by the slot number. In this case the
slot number has 3 digits instead of 1.

[MT#55258] [PRO/Carrier] PBX applications: improve internal flow to not use CF profile. An internal processing has stopped
using CF profile for the PBX applications, such as: auto-attendant, conference, fax2mail. But only for cases with CFU,
which is the only way now to enable these services for a subscriber. Instead of using the CF profile,
start using direct call to the requested PBX application (such as we do for the callqueues).
This behavior is controlled via the newly added config.yml option:
kamailio.proxy.skip_cf_loop = 'yes' / 'no'. By default is disabled.
In the closest future rest of applications will be moved to this new flow, such as:
voicemail, calling card, office hours, custom announcement, manager secretary.

[MT#56208] Subscribers have access to call forward sets that do not belong to them but used in one of call forwards that
are assigned to them. Those destination sets are visible on the UI (have '(inherited)' suffix) and also obtainable
via the API but they cannot be modified/deleted. Once the call forward where they are present is removed from the
subscriber, the related inherited sets are not obtainable anymore (not visible in the UI, nor accessbile via the API).
What is mr11.2.1?
The build mr11.2.1 is the first build for release mr11.2, mr11.2.1 provides new features and bugfixes.
Is mr11.2 LTS (long time supported) release?
How do I test-drive the new version?
AMI ID for region eu-west-1: ami-05475c36f68752d73
How do I install the new version or upgrade from an older one?
For new users, please follow the Installation Instructions in the Handbook to set up the Sipwise C5 CE mr11.2.1 from scratch. For the users of the previous version of Sipwise C5 CE, please follow the upgrade procedure outlined in the Handbook. If you have customized your configurations using customtt.tt2 files, you must migrate your changes to the new configuration files after the upgrade, otherwise, all your calls will most certainly fail. Hint: modern patchtt.tt2 framework can help you here in the future.
How can I contribute to the project?
Sipwise is publishing software components at github.com/sipwise. Please check it regularly for new projects to appear there, and feel free to fork them and send us pull requests. For development related questions, please subscribe to our Dev Mailing-List.
Acknowledgements
We want to thank our PRO/Carrier customers and the Sipwise C5 CE community for their feedback,bug reports and feature suggestions to make this release happen. We hope you enjoy using our software and keep your input coming. A big thank you also to all the developers of Kamailio, Sems and Prosody, who make it possible for us to provide an innovative and future-proof SIP/XMPP engine as the core of our platform! And last but not least a HUGE thank you to the Sipwise development team, who worked insanely hard to create this release. You are awesome!