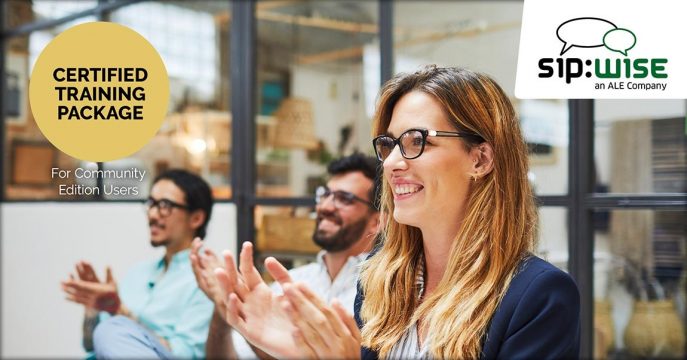 Great news for Sipwise CE Users: we are releasing Certified Training Package (CTP)
On a daily basis, we listen to our community with care and curiosity. Many of our Sipwise Community Edition (CE) users have been struggling to unleash the full potential of the Sipwise CE and the impact it can have on their business. We drew our conclusions, reacted according to the feedbacks and processed it – Your story allows us to innovate and therefore, we created the Certified Training Package (CTP). We want our users to reap the benefits of official Sipwise training.
The CTP is a two-day online course that Sipwise has made available to Sipwise CE users. During the training, the participants will be guided on how to better use our Sipwise C5 CE to its full performance level. With CTP, the CE users will be able to tap the maximum potential of the open-source software and will be prepared for daily challenges.
How can Community Edition's users benefit from the Certified Training Package (CTP)?
All participants will be instructed on how to handle the Community Edition (CE) with efficiency to conquer upcoming troubleshooting scenarios in the future with ease and to find solutions adapted to their business cases. The CTP will be held by a certified and active Sipwise engineer who will provide up-to-date information on our solutions and procedures. In the Q&A session, the attendees will have the opportunity to discuss individual topics and get professional feedback.
The first-day session will cover topics such as architecture, basic and advanced configuration; call flows, backup and troubleshooting-issues. The second-day session consists of a series of hands-on activities will be conducted to consolidate the knowledge and to assure the day-to-day operations with the Sipwise CE will be optimized.
CTP for Sipwise Training: Key facts and figures
Do you still miss information? Here are the key facts in a nutshell:
Languages: CTP is available in the following languages: English, Italian, Russian and Spanish
Participants: minimum of 2 participants and up to 14 Participants per session.
Location:

online
Sipwise offers onsite-training upon request (additional fees apply)

Trainer: a certified and active Sipwise engineer will hold the sessions. Together with the trainer, the participants will dive deep into the possibilities the Community Editions (CE) offers and gain experience with our open-source platform.
Do you want specifics? Please visit https://sipwise.com/products/sipwise-ctp-certified-training-package.
About Sipwise
Sipwise's unified communication platforms are targeted at fixed, converged and wireless service providers supporting a variety of access technologies like Cable, xDSL, FTTx, WiFi and WiMAX, as well as "Over-the-Top" operators.
With years of expertise in VoIP and UC solutions, Sipwise works with clients on all continents and is servicing over 100 commercial deployments and more than 60 Telcos. Sipwise offers an unbeaten price-to-performance ratio to communication service providers with ease of integration towards their technical OSS and BSS infrastructure, as well as outstanding flexibility.
For more information, please visit https://www.sipwise.com.