Sipwise sponsors Kamailio World 2019 in Berlin, Germany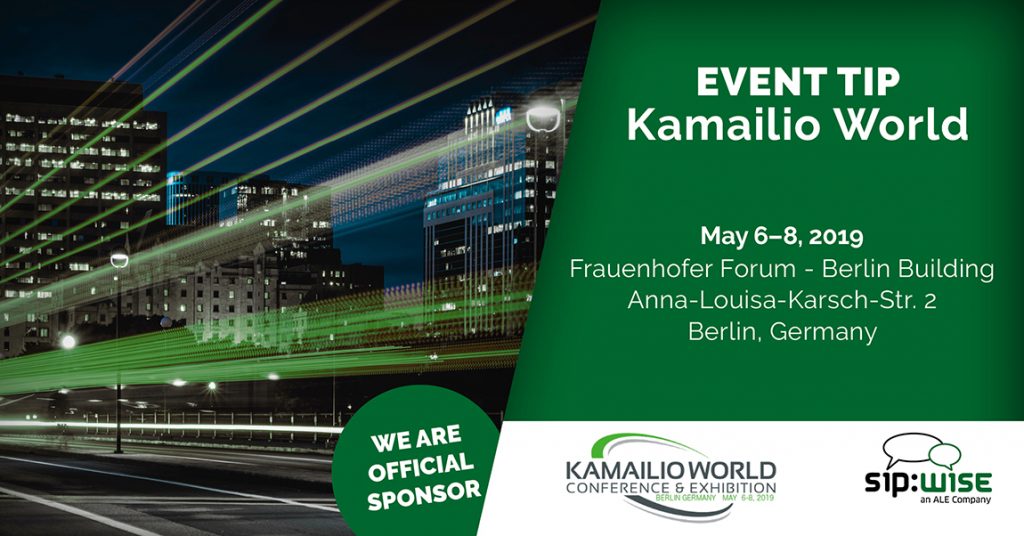 Sipwise is an official sponsor of the 7th edition of Kamailio World Conference & Exhibition.
Where everything revolves around real time communication.
Sipwise is once again proud sponsor of the 7th edition of Kamailio World 2019 and will actively participate in the conference and exhibition. The event will take place from May 6 to 8 in Berlin, Germany.
The two-day event is dedicated to presenting extensive inputs on classic telephony systems and next-generation RTC services as well as VoIP, WebRTC, IMS, and VoLTE to the visitors. There will be numerous talks, discussions, captivating sessions and demonstrations to enable visitors to broaden their knowledge in these areas. The experience will be rounded off by conducting technical tutorials, presentations and product showcases. Not only will the Kamailio World 2019 give an overview over recent innovations and trends, but it will also bring together a significant number of experts from different fields, most prominently those who build and deploy technologies for real time communications.
Andreas Granig, CTO of Sipwise, will once again give a talk at Kamailio World on May 7th at 11:30 a.m. The speech is about "RTPEngine – Beyond RTP Relaying", in which he will give a deeper insight on what the RTPEngine can do and what the plans for the future are.
About Sipwise
Sipwise unified communication platforms are targeted at fixed, converged and wireless service providers supporting a variety of access technologies like Cable, xDSL, FTTx, WiFi and WiMAX, as well as "Over-the-Top" operators.
With years of expertise in VoIP and UC solutions, Sipwise works with clients on all continents and is servicing over 65 Telcos in 25 countries worldwide. Sipwise offers an unbeaten price-to-performance ratio to communication service providers, with ease of integration towards their technical, OSS and BSS infrastructure, as well as outstanding flexibility.
For more information, please visit https://www.sipwise.com.