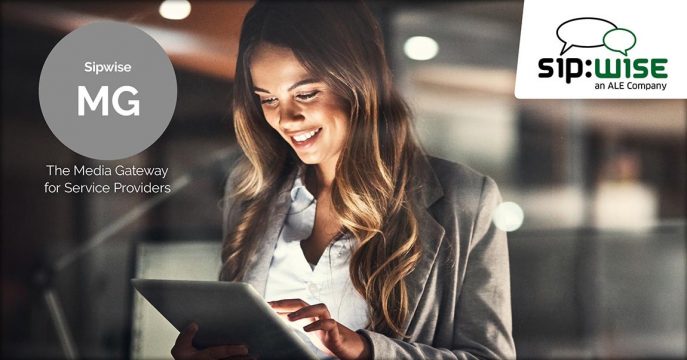 Sipwise releases Media Gateway (MG) developed in close cooperation with Sangoma.
As a result of increased demand, Sipwise is launching the Sipwise Media Gateway, a service that has been developed in close cooperation with Sangoma. The Sipwise MG is connecting IP-Networks to Public Switched Networks via high-density optical telephony and Ethernet connections in a compact 1U form.
Media Gateway: A hybrid solution before taking the final leap to Next-Generation Communication systems
Do you not want to change your existing ISDN infrastructure just yet, but still want to take advantage of VoIP telephony benefits?
Stability, cost savings, simultaneous use of any telephone numbers and terminals, independence of location, as well as central communication via one network, the Internet, instead of operating a telephone network in parallel – these are some of the many advantages of VoIP/IP telephony.
The Media Gateway is an extension of the Sipwise Unified Communications portfolio and supports telecommunications providers switching from TDM/SS7 to SIP/IP.
What are Media Gateways? An executive summary.
Media Gateways are a network transition used in telecommunications, next-generation networks and IP telephony. They serve as links that enable communication between different and not always compatible systems. These systems can be networks, single computers or different applications on computers.
The Sipwise MG converts analogue media and signalling to support efficient and reliable voice, fax and multimedia sessions for mobile and cloud-based applications. It secures sessions across IP and mixed network boundaries to support service level agreements.
What are the capabilities of the Sipwise Media Gateway?
Deployment and outstanding reliability
Scripting and Modification Suitability (employs Sangoma's Programmable Protocol Language)
Multiple algorithms for routing and disposition
Pre Call-Announcement for branding employment
Hardware-less transcoding via integrated encryption and transcoding support
Scalable up to 2250 SIP sessions and 2016 channels of SS7 signalling
Do you want more information? Please visit https://sipwise.com/products/ sipwise-mg-media-gateway-for-service-providers.
About Sipwise
Sipwise's unified communication platforms are targeted at fixed converged and wireless service providers supporting a variety of access technologies like Cable, xDSL, FTTx, WiFi and WiMAX, as well as "Over-the-Top" operators.
With years of expertise in VoIP and UC solutions, Sipwise works with clients on all continents and is servicing over 100 commercial deployments and more than 60 Telcos. Sipwise offers an unbeaten price-to-performance ratio to communication service providers with ease of integration towards their technical OSS and BSS infrastructure, as well as outstanding flexibility.
For more information, please visit https://www.sipwise.com.