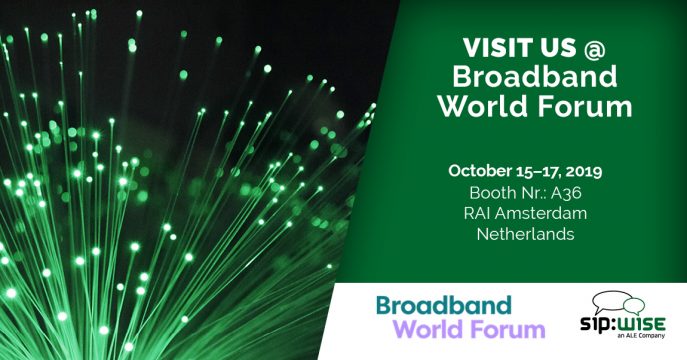 Sipwise exhibits at BBWF 2019 in Amsterdam.
Broadband World Forum 2019 (BBWF) is one of the leading events for fixed and wireless broadband ecosystems. More than 4,100 professionals in this field will gather on the 15th to 17th of October 2019 in Amsterdam. Sipwise takes part as an exhibitor and showcases its Unified Communication solutions that are tailored for telcos and Internet Service Providers (ISPs).
The focus of this year's BBWF is all about 5G, innovations at the edge and next-generation networks.
Oliver Schlögl, Head of Sales at Sipwise summarizes: "Broadband World Forum is a wide-ranging platform to connect with global players in the field of fixed and wireless lines. To face the upcoming challenges for broadband suppliers, such as 5G, Sipwise is keen to showcase the solutions at the exhibition for interested corporations."
"Our participation at BBWF 2019 is dedicated to the further development of business communication in the focus of comprehensive digitization and virtualization. We are excited to get in contact with visitors at our booth number A36 to discuss the significance of investing in Sipwise's scalable technology and how it can impact corporations in terms of business expansion and profit benefits," stated Oliver Schlögl.
For more information about the participation of Sipwise at Broadband World Forum, please check our profile at BBWF2019.
Sipwise will be at booth A36 at RAI in Amsterdam/Netherlands. We are looking forward to welcoming you and to discuss the latest trending topics like 5G for telcos and Unified Communication solutions.
____
About Sipwise
Sipwise unified communication platforms are targeted at fixed, converged and wireless service providers supporting a variety of access technologies like Cable, xDSL, FTTx, WiFi and WiMAX, as well as "Over-the-Top" operators.
With years of expertise in VoIP and UC solutions, Sipwise works with clients on all continents and is servicing over 65 Telcos in 25 countries worldwide. Sipwise offers an unbeaten price-to-performance ratio to communication service providers, with ease of integration towards their technical, OSS and BSS infrastructure, as well as outstanding flexibility.
For more information, please visit https://www.sipwise.com.