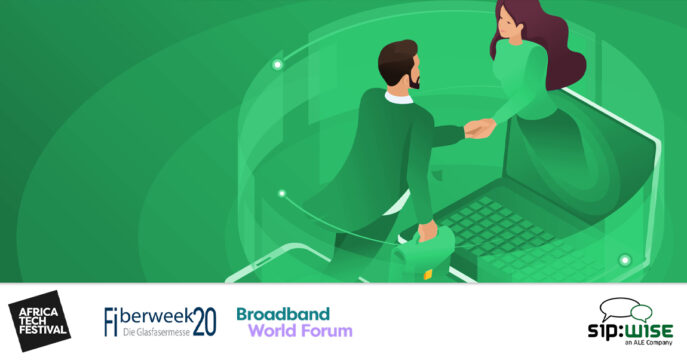 Sipwise exhibited at 2020's virtual BREKO, BBWF and AfricaCom!
Our Sales team reports back from the digital frontlines.
Due to Corona, numerous technology fairs had to be converted to virtual events. Of course, the Sipwise team is happy to meet partners from all over the world in person – yet as ambassadors of innovative (Tele-)communications, we couldn't miss the chance to explore the virtual counterparts of BREKO FIBERWEEK, Broadband Word Forum and AfricaCom/Africa Tech Festival. The Sipwise Sales team was digitally present at all events and is happy to take stock for you!
Modern technology as foundation of participant experience
With 3D virtual environments, animated avatars, live chats across multiple continents and more, this year's online trade shows have demonstrated – the bar for great exhibitor and visitor experience is set high.
Especially, the BREKO FIBERWEEK20 could impress with its innovative trade fair design based on the MeetYoo Conferencing Platform. Animated avatars of the booth staff, customised booth designs and fast availability of promotional materials make the trade show visit a dynamic and exciting experience for visitors.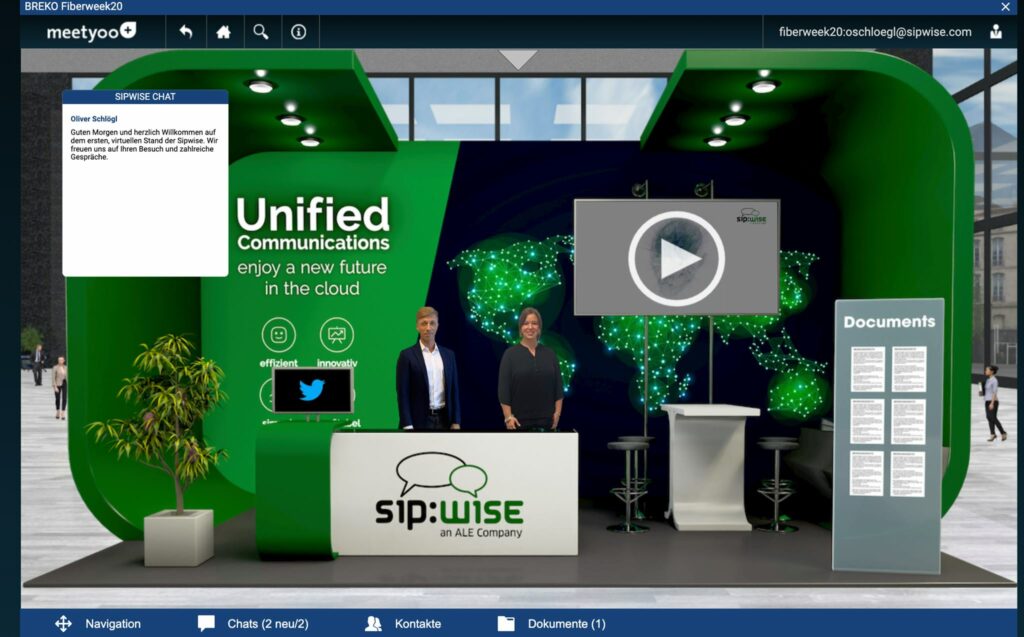 Broadband World Forum (BBWF) and AfricaCom employed the services of virtual/live event platform SwapCard for both exhibitions. With regard to UX and web design, visitors and exhibitors could rely on well-known standards – making the trade fair visit very intuitive. Especially executives with a tight schedule experienced this as an advantage – no tutorials are necessary to find your way around the interface.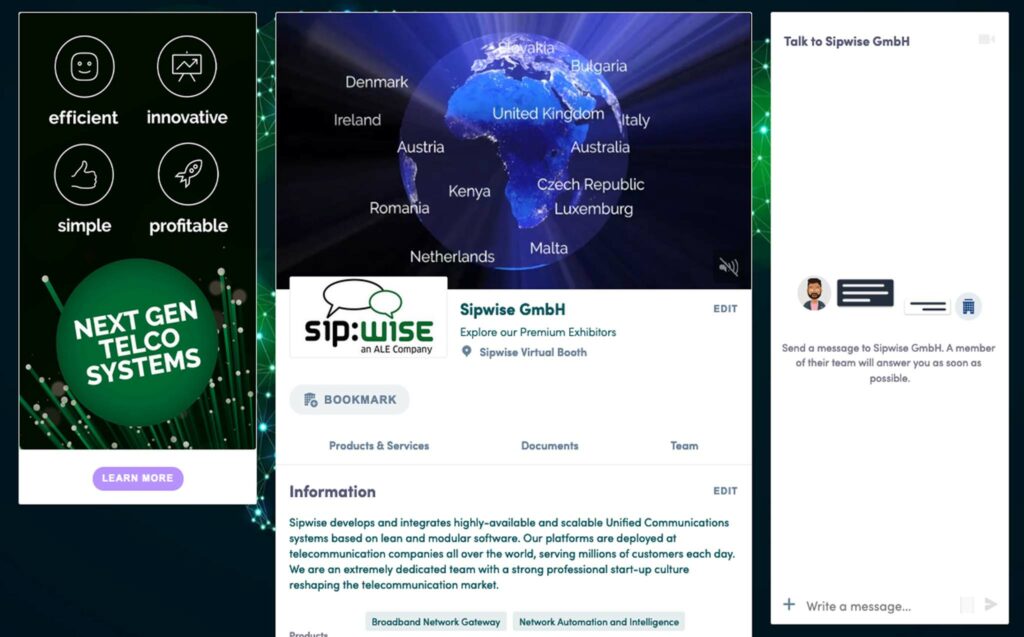 Flexible and transparent matchmaking, key industry players as participants
The virtual trade fairs were also able to gather top-class visitors. Therefore even at digital events, things can sometimes get hectic. Therefore our Sales staff particularly appreciated the clearly arranged visitor and contact data, as well as the scheduling in the run-up to the start of the event that rendered preparation and efficient matchmaking way easier to handle.
Especially BBWF and AfricaCom delighted the visitors with clear information and a helpful filter system – so that the Sipwise team always knew exactly which visitors were relevant and potentially interested in the Sipwise product portfolio. The practical chat/messenger function enabled our team to quickly establish contacts with trade fair visitors from all over the world – easily and efficiently.
Some teething troubles were to be expected
To be frank, new concepts often leave room for optimization, virtual fairs are no exception – our sales team was able to identify a few shortcomings. The German BREKO FIBERWEEK did not attract as many visitors from the Telco, MNO, MVNO and Carrier domain as its real-life counterpart. Moreover companies from the Asia-Pacific region were hardly represented. On the technical face of things, BBWF's and AfricaCom's call platform was not very reliable, our sales agents avoided using it due to poor voice quality.
However, in general the most obvious disadvantage was the considerably lower commitment of the trade fair visitors compared to last year's issues of BREKO, BBWF and AfricaCom. Many of the visitors seemed to rather browse through the exhibitor booths while working in parallel, the otherwise so tangible event and communication atmosphere suffered noticeably.
Key facts to virtual BREKO, BBWF and AfricaCom
+ Captivating trade show experiences through digital avatars, 3D environment or intuitive web interface
+ Chat, filtering and scheduling features are very helpful for establishing quick contacts and gathering contact information
+ High-quality attendees from Europe, Middle East and Africa and North America
Some technical teething problem
— Trade fair experience is suffering slightly due to more passive setting
— Attendees are less dedicated to the trade fair than usual
Digital or live! The Sipwise team is looking forward to meeting at 2021's spring events! Stay tuned and follow Sipwise on Social Media!
Facebook: https://www.facebook.com/sipwise
Twitter: https://twitter.com/sipwise
About Sipwise
Sipwise's unified communication platforms are targeted at fixed, converged and wireless service providers supporting a variety of access technologies like mobile radio, Cable, xDSL, FTTx, WiFi and WiMAX.
With years of expertise in VoIP and UC solutions, Sipwise works with clients all over the world and is supporting over 100 commercial deployments by MNOs, MVNOs, Telcos, cable network providers, utilities and "Over-the-Top"- operators.
For more information, please visit https://www.sipwise.com.