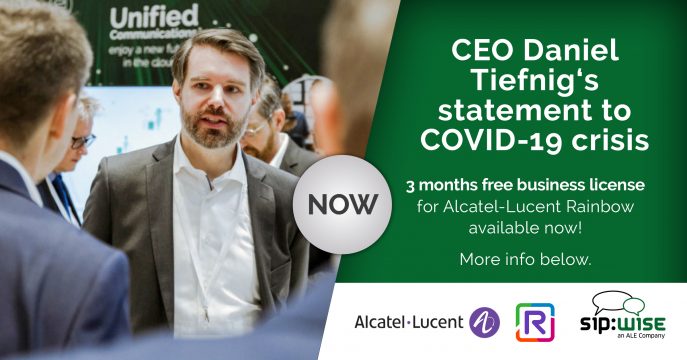 Sipwise CEO statement on the current COVID-19 crisis
Dear customers, partners and stakeholders,
In response to the rapid global spread of COVID-19, governments around the world have implemented action plans to enable containment. Proportionally to the spread of the virus, the measures taken by governments worldwide are intensifying.
We understand that these developments may cause concern and would therefore like to inform you about the current situation at Sipwise.
Precautionary measures at Sipwise due to COVID-19
To keep our employees, customers, partners and their families healthy and safe, we have been implementing precautionary measures in the last weeks, specifically regarding our office and client-relations-policy.
Currently, no business trips are carried out, neither nationally nor internationally. Our trade fair appearances and visits, even at events that have not yet been postponed or cancelled, are suspended until further notice.
To ensure the safety of our employees, we have completely switched to remote working. Since Monday 16th of March employees are only present in the head office in exceptional cases. All internal and external meetings have been converted to technology-supported online conferences carried out via Rainbow – the collaboration platform of our parent company Alcatel-Lucent. Click here to read more.
We are in the gratifying situation that no COVID-19 case or suspected case has been reported within our workforce to date.
Our service continues
Our unified communications solutions are not affected by the internal measures taken. Our servers are fully functional, our support team continues to work for you, developers and product managers continue to work on incremental improvements to our product portfolio and our management team are 100% committed to the performance of our people and our technology. You can be sure that there will be no limitations in the availability and continuity of our solutions.
Sipwise is serving infrastructure in 31 countries on 6 continents for more than 100 commercial deployments at telco operators. We believe that communication plays a central role in overcoming this crisis, therefore we are absolutely committed to contributing our share in coping with this unprecedented situation.
As a wholly-owned subsidiary of Alcatel-Lucent Enterprise, Sipwise ensures unrestricted productivity with the company's own Unified Communications and collaboration platform Rainbow. In response to the COVID-19 crisis, Alcatel-Lucent is providing three months of free access to the software's business license. More information can be found below.
Sipwise is taking every precaution to keep employees, partners and their families safe and is going out of its way to keep it's clients fully operating until this pandemic has passed.
We encourage everyone to follow precautionary measures communicated by public health authorities.
At the same time, we will continue to support and service you to the best of our ability.
Sincerely,
Daniel Tiefnig, CEO Sipwise
Our offering | 3 months free Enterprise licenses for Alcatel-Lucent-Rainbow!
Not only our clients but also every company that needs their employees to work remotely requires a fully mobile, effective, ubiquitous and easy-to-use technology that ensures the integrity and security of everyone's data or personal information.
To accommodate these requirements, Alcatel-Lucent Enterprise is offering free Rainbow Enterprise licenses for three-months (from 9th of March to the 30th of June 2020) so that businesses can experience its cloud-based communication platform and enable their staff to productively and securely work remotely.
With the three-month trial period commencing on the date of activation, businesses will be able to immediately use Rainbow on the Web, their mobile, desktop and tablet. With no additional hardware or software installations required, in one click employees can get started immediately.
At the end of the three-month promotional period, one will be able to extend one's subscription and continue to benefit from the tried-and-test communication and collaboration platform.
To benefit from our 3 months' free Enterprise licenses*, click here.
About Sipwise
Sipwise unified communication platforms are targeted at fixed, converged and wireless service providers supporting a variety of access technologies like Cable, xDSL, FTTx, WiFi and WiMAX, as well as "Over-the-Top" operators.
With years of expertise in VoIP and UC solutions, Sipwise works with clients on all continents and is servicing over 100 commercial deployments and more than 60 Telcos. Sipwise offers an unbeaten price-to-performance ratio to communication service providers with ease of integration towards their technical OSS and BSS infrastructure, as well as outstanding flexibility.
For more information, please visit https://www.sipwise.com.