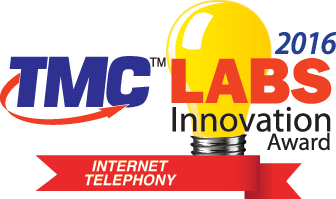 INTERNET TELEPHONY Innovation Award 2016 for Sipwise
Sipwise gets awarded for its innovative Internet Telephony solution!
Brunn, Austria, October 12, 2016 — Sipwise announced today that TMC, a global, integrated media company, has named its RTC:engine as the 2016 INTERNET TELEPHONY TMC Labs Innovation Award winner which was presented by INTERNET TELEPHONY magazine.
The INTERNET TELEPHONY TMC Labs Innovation Award honours products that display innovation, unique features, and significant contributions toward improving communications technology. The awards are bestowed to those companies demonstrating ground-breaking contributions to the industry.
"This award is a great honour for Sipwise and all our colleagues who are part of the development of the RTC:engine", stated Daniel Tiefnig, CEO of Sipwise.
"For us, WebRTC is one of the most exciting approaches that lifts the entire way we communicate on a higher level. With Sipwise RTC:engine as a communication framework, every company can easily jump on this train and deploy real-time communication applications to enhance its entire business communication, Daniel added.
About RTC:engine
"The INTERNET TELEPHONY TMC Labs Innovation Award represents the best and unique products and services that this industry has to offer. Sipwise has proven their commitment to quality and the further development of the IP communications industry through its RTC:engine product," stated Rich Tehrani, CEO, TMC. "Congratulations to the entire team at Sipwise for earning this great honour. I look forward to seeing more innovative solutions from them as they continue to contribute to the future of IP communications," Tehrani added.
All the winners of the 2016 TMC Labs Innovation Award will be highlighted in the latest issue of INTERNET TELEPHONY magazine.
About Sipwise
Sipwise unified communication platforms are targeted at fixed, converged and wireless service providers supporting a variety of access technologies like Cable, xDSL, FTTx, WiFi and WiMAX, as well as "Over-the-Top" operators.
With years of expertise in VoIP and UC solutions, Sipwise works with clients on all continents and is servicing over 65 Telcos in 25 countries worldwide. Sipwise offers an unbeaten price-to-performance ratio to communication service providers, with ease of integration towards their technical, OSS and BSS infrastructure, as well as outstanding flexibility.
For more information, please visit http://www.sipwise.com.
About INTERNET TELEPHONY magazine
INTERNET TELEPHONY magazine has been the IP Communications Authority since 1998™. Beginning with the first issue in February of 1998, INTERNET TELEPHONY has been providing unbiased views of the complicated converged communications space.  INTERNET TELEPHONY offers rich content from solutions-focused editorial content to reviews on products and services from TMC Labs.  INTERNET TELEPHONY magazine reaches more than 225,000 readers, including pass-along readers.  For more information, please visit www.itmag.com.
About TMC
Global buyers rely on TMC's content-driven marketplaces to make purchase decisions and navigate markets. This presents branding, thought leadership and lead generation opportunities for vendors/sellers.
TMC's Marketplaces:
Unique, turnkey Online Communities boost search results, establish market validation, elevate brands and thought leadership while minimising ad-blocking.
Custom Lead Programs uncover sales opportunities and build databases.
In-Person and Online Events boost brands, enhance thought leadership and generate leads.
Publications, Display Advertising and Newsletters bolster brand reputations.
Custom Content provides expertly ghost-crafted blogs, press releases, articles and marketing collateral to help with SEO, branding, and overall marketing efforts.
Comprehensive Event and Road Show Management Services help companies meet potential clients and generate leads face-to-face.
For more information about TMC and to learn how we can help you reach your marketing goals, please visit www.tmcnet.com.
Sipwise Contact:
Sipwise GmbH
Martin Kastner
Director Sales