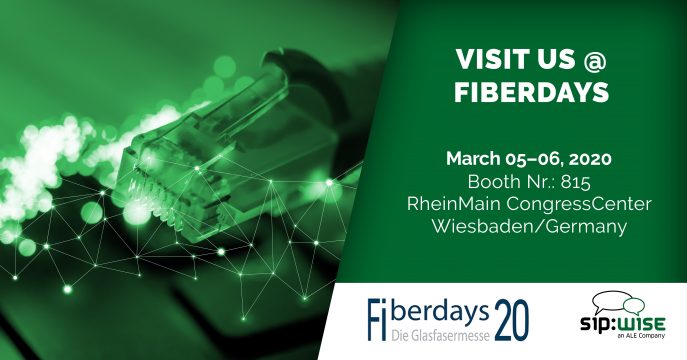 Sipwise at Fiberdays 2020 in Wiesbaden/Germany
Fiberdays 2020 is Germany's leading trade fair for fibre optics and will take place on March 5 and 6. Up to 3,000 trade visitors from Germany and abroad are expected to attend the 2-day event. The fair is dedicated to one of the most relevant topics in the industry. In the past year, the trade fair has been a clear success. Sipwise exhibits and presents its solutions around cloud-based communication tailored to the glass fibre industry at the Fiberdays 2020.
Thanks to the perfect combination of exhibition, seminars, workshops and networking night, the Fiberdays offer the perfect stage to present the products and solutions of Sipwise. The event enables to showcase how a powerful infrastructure and cloud-based products can help boost growth within a company.
Oliver Schlögl, Head of Marketing and Sales at Sipwise: "Fiberdays 2019 have been overwhelming. The fair gives us the occasion to maintain some valuable business contacts in Germany and to build new business relations. The event is the right platform to present our Unified Communication Solutions in relation to fibre glass technology. Interested visitors have the unique opportunity to test our products on smartphones and tablets in real life."
UniCom Solutions
The core of Sipwise's solutions is Class 5 Softswitch. As a turn-key and carrier-grade VoIP-product, it is the indispensable system for Unified Communications. Internet and telephony service providers are able to offer excellent real-time communication with cloud services and VoIP. Supplemented with further products of Sipwise such as Cloud PBX or Web:RTC, Sipwise provides companies with an aligned solution of various user needs.
Sipwise will be at booth 815 at Wiesbaden in Germany. We are looking forward to welcoming you to our stand and get in touch with you. For more information visit brekoverband.de/fiberdays20-the-fiber-fair
____
About Sipwise
Sipwise unified communication platforms are targeted at fixed, converged and wireless service providers supporting a variety of access technologies like Cable, xDSL, FTTx, WiFi and WiMAX, as well as "Over-the-Top" operators.
With years of expertise in VoIP and UC solutions, Sipwise works with clients on all continents and is servicing over 65 Telcos in 25 countries worldwide. Sipwise offers an unbeaten price-to-performance ratio to communication service providers, with ease of integration towards their technical, OSS and BSS infrastructure, as well as outstanding flexibility.
For more information, please visit https://www.sipwise.com.