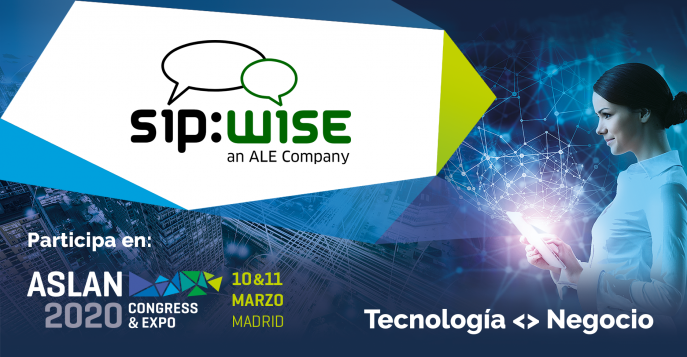 Sipwise at ASLAN 2020 in Madrid/Spain
ASLAN 2020 is the leading exhibition in regards to digital transformation in Spain. The fair gathers professionals of the IT-industry from 10th to 11th of March 2020 in Madrid at IFEMA. Due to last year's overwhelming success, Sipwise will participate again this year.
Sipwise will welcome you at booth 87. With a broad knowledge about Unified Communications, the team is eager to discuss the latest news and solutions with you.
Product Launch: Certified Training Package for CE
Sipwise's new product innovation is being presented at #ASLAN 2020 – Certified Training Package (CTP):
Users of the Community Edition (CE) may attend an online course from certified instructors. With CTP, users are allowed to tap the full potential of the Open-Source Software for CE to be prepared for daily use and possible challenges.
Still, the core of Sipwise's solutions at ASLAN 2020 is the Class 5 Softswitch. As a turn-key and carrier-grade VoIP-product, it is the indispensable system for Unified Communications. Internet and telecommunication service providers will be able to offer excellent real-time communication with cloud services and VoIP. Accompanied by complementary products of Sipwise such as Cloud PBX or Sip:Phone app, Sipwise offers companies an aligned solution for various user needs.
The exhibition offers a wide stage to showcase products and solutions from Sipwise to interested service providers who are operating in the telecommunications sector.
For more information and complimentary tickets, please click on this link.
---
About Sipwise
Sipwise unified communication platforms are targeted at fixed, converged and wireless service providers supporting a variety of access technologies like Cable, xDSL, FTTx, WiFi and WiMAX, as well as "Over-the-Top" operators.
With years of expertise in VoIP and UC solutions, Sipwise works with clients on all continents and is servicing over 65 Telcos in 25 countries worldwide. Sipwise offers an unbeaten price-to-performance ratio to communication service providers, with ease of integration towards their technical, OSS and BSS infrastructure, as well as outstanding flexibility.
For more information, please visit https://www.sipwise.com.