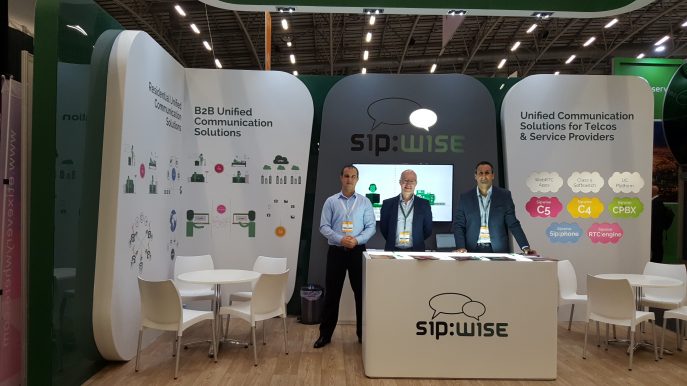 Sipwise at AfricaCOM 2016 in Cape Town, South Africa
Sipwise at AfricaCOM 2016
The AfricaCOM conference and exhibition, that takes place in Cape Town, South Africa, is considered as one of the most important industry events for the entire telecommunication industry. For the second time, Sipwise was an exhibitor at the AfricaCom 2016, showcasing its Unified Communication product suite for carrier and cable operators.
Every year in November the entire telecoms industry from all over Africa and large parts of Middle East gather in Cape Town to discuss new developments and to meet existing and potential clients and partners.
"Knowing the potential of AfricaCOM from our last appearance in 2014, we went there with high hopes. The truth is, even those expectations have been exceeded" stated Martin Kastner, Director of Sales at Sipwise.
"Africa has very diverse and agile markets and the players are always looking for proven and sustainable telecommunication products to grow their existing business or tapping into new promising markets. For Sipwise, it was a perfect opportunity to highlight our product suite around Class 5 Softswitches, Cloud PBX modules and mobile SIP apps to a very savvy and highly interested audience", Martin added.
Sipwise products gained a considerable attraction across all industry players, including cable network operators, fixed line telcos or internet service providers and is looking forward to enlarging its already existing business in Africa substantially over the next year.
To find out more about Sipwise's portfolio, please visit our website, or contact us directly.
About Sipwise
Sipwise unified communication platforms are targeted at fixed, converged and wireless service providers supporting a variety of access technologies like Cable, xDSL, FTTx, WiFi and WiMAX, as well as "Over-the-Top" operators.
With years of expertise in VoIP and UC solutions, Sipwise works with clients on all continents and is servicing over 65 Telcos in 25 countries worldwide. Sipwise offers an unbeaten price-to-performance ratio to communication service providers, with ease of integration towards their technical, OSS and BSS infrastructure, as well as outstanding flexibility.
For more information, please visit http://www.sipwise.com.