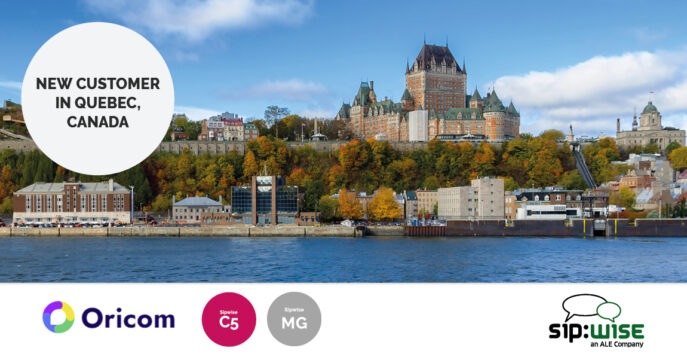 Chapeau! Sipwise VoIP solutions arrive in Canada.
At Sipwise, we strive for optimizing connectivity around the globe. Either by constantly refining our open source solutions or by providing highly-scalable, carrier-grade and turnkey VoIP products for commercial and residential clients.
With our first customer in Canada – Oricom Internet – we transcended over 6000 kilometers distance, made possible by Unified Communications tools, specifically Alcatel Lucent's Rainbow.
Oricom Internet – a 100% Québec company.
ORICOM INTERNET is a telecommunications provider, offering telephony,
Internet and Television solutions. Connected to all data transfer networks – cable, DSL, fibre optics, wireless and dial-up access – Oricom Internet is able to adapt to specific business and residential needs.
Turnkey solution – Sipwise delivers carrier-grade and scalable VoIP-services.
Aiming to deliver the best possible service for their clients, Oricom Internet chose the Sipwise C5 Softswitch as their powerful new VoIP-platform to replace their existing, older solution. As means of network transition, Sipwise could provide the fully integrated Sangoma media gateway – in order to present a comprehensive set of tools for Oricom.
It's all about experience!
As our first Canadian client, we are especially proud and excited about the cooperation! It's all the more pleasing that Oricom shares our enthusiasm.
Installation, training and support during the onboarding process were met with consistently positive reactions from team and management. Oricom's IT Director Jean-François Plourde specifically praises the very responsive and highly qualified Sipwise support team. At Sipwise, we are well aware that adopting and integrating new IT-systems can induce many challenges, hence we are always delivering our very best to render the experience as smooth and pleasant as possible. As with every customer, Oricom should be as confident in the use of our NGCP tools as we are ourselves.
Would you like to learn more about our VoIP solutions? Delve into more content on our website or contact our Sales team at sales@sipwise.com.
Stay tuned and follow Sipwise on Social Media!
Facebook: https://www.facebook.com/sipwise
Twitter: https://twitter.com/sipwise

About Sipwise
Sipwise's unified communication platforms are targeted at fixed, converged and wireless service providers supporting a variety of access technologies like mobile, radio, Cable, xDSL, FTTx, WiFi and WiMAX.
With years of expertise in VoIP and UC solutions, Sipwise works with clients all over the world and is supporting over 100 commercial deployments by MNOs, MVNOs, Telcos, cable network providers, utilities and "Over-the-Top"- operators.
For more information, please visit https://www.sipwise.com.