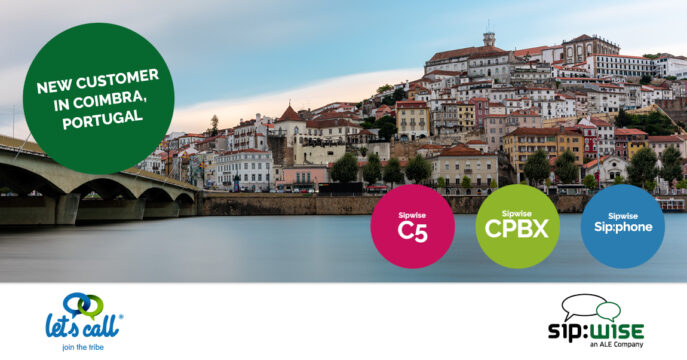 Bem-vindo! Sipwise supplies the Portuguese market with business VoIP solutions.
As a B2B telecommunication solutions provider, Let's Call counts on the performance and reliability of Sipwise's next generation communications technology.
Portugal has one of the highest cell phone penetration rates in the world – in fact the number of operative mobile phones in circulation exceeds the population.
In addition to the strong mobile market, a large customer base for broadband and fiber-based services is emerging. Government agencies and key players in the telecommunications market have driven the necessary infrastructure improvements.1 The perfect time for Let's Call – provider of telecom solutions for business and industry – and Sipwise – to join forces!

IP-telephony revolution – great minds think alike!
Let's Call was looking for a partner to provide more reliable, flexible and performant unified communications services – with the Sipwise C5 Softswitch, the Sipwise CPBX and the sip:phone mobile app – these goals could be accomplished.
The first personal encounter of Let's Call and Sipwise took at a renowned IT trade show in Madrid. During the meeting, the requirements for a potential partner company were established. Let's Call was looking for a reliable platform with good support services that would give them confidence to offer steady voice services to their customers. Before – they had been using another platform that often caused service disruption. As experts for VoIP-solutions, – reliability, high availability and scalability of services are absolutely self-evident for Sipwise.
Let's Call found a competent partner in Sipwise – employing the Sipwise C5 Softswitch as their core VoIP-platform. The C5 is a highly scalable SIP Softswitch for business voice solutions. It is easily expandable by simply enabling various software modules. The services based on our switch can be deployed in any access network – an exciting foresight with regard to the beginning 5G expansion in Portugal!
Boosting availability and performance with Sipwise solutions
Try it before you buy it – Let's Call serves a wide range of customers with different requirements. To put the Sipwise C5 platform through its paces, the C5 Community Edition was first used for testing. The results were more than convincing.
Let's Call CEO Sergio Batista particularly emphasised the adaptability and stability of Sipwise solutions: "I think the main benefit is the flexibility to configure the scenarios that our customers need and the reliability of the platform."
In addition, the use of Sipwise products enables the company to break into new customer groups – due to difficulties with the previous provider, Let's Call was reluctant to approach clients whose accessibility was of absolute importance. With Sipwise C5, CPBX and sip:phone, all customers can be served, regardless of their specific requirements!
Connecting software and people – we speak your language!
Currently Let's Call is planning on developing integrations that will require specific deployments – with years of experience in customization, the Sipwise team is ready and excited about extending the collaboration. Our international company consists of employees from 20 different countries, of course we are happy to support and consult Let's Call in Portuguese, so that no details are lost in translation.
Would you like to learn more about our VoIP solutions? Read more on our website or contact our Sales team at sales@sipwise.com.
Stay tuned and follow Sipwise on Social Media!
Facebook: https://www.facebook.com/sipwise
Twitter: https://twitter.com/sipwise
About Sipwise
Sipwise's unified communication platforms are targeted at fixed, converged and wireless service providers supporting a variety of access technologies like mobile radio, Cable, xDSL, FTTx, WiFi and WiMAX. With years of expertise in VoIP and UC solutions, Sipwise works with clients all over the world and is supporting over 100 commercial deployments by MNOs, MVNOs, Telcos, cable network providers, utilities and "Over-the-Top"- operators.
For more information, please visit https://www.sipwise.com.