AfricaCom 2019: Sipwise exhibits at Africa's largest fair trade for Telecoms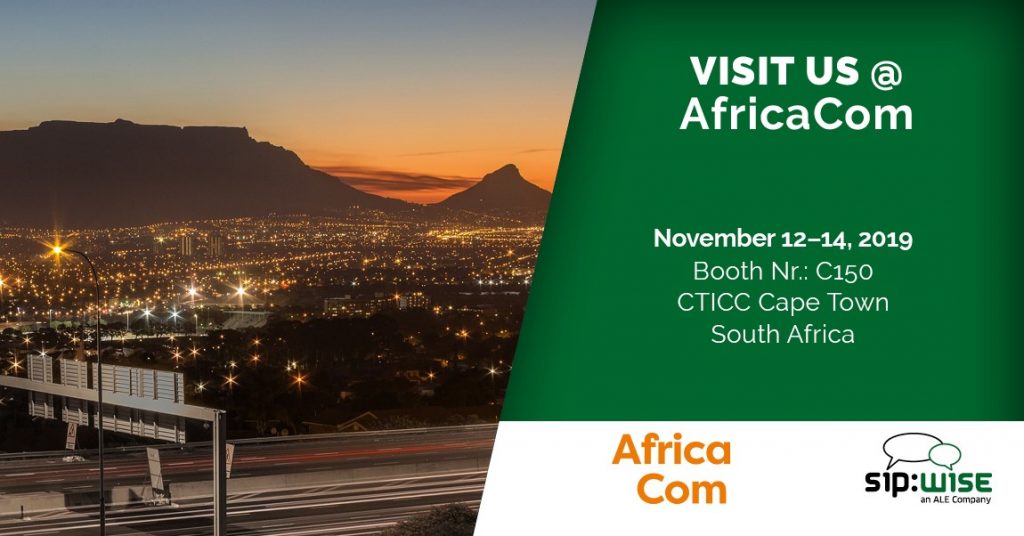 "Accelerating business transformation to strengthen African economies" – this is the theme of AfricaCom 2019, and it reflects the approach of the Austrian company Sipwise.
As an expert in Unified Communications, Sipwise offers a wide array of products to support the rapidly evolving technology in Africa which can increase the connectivity of local companies within the country and – of course – worldwide.
AfricaCom is the largest African conference and exhibition for telecoms and technology. It takes place at CTICC Cape Town in South Africa from 12th to 14th of November 2019. More than 15.000 attendees are expected to gather at this significant event as it tackles the most crucial topics – ranging from the digital transformation journey to the connectivity of the African continent. For the fourth year in succession, Sipwise is part of this AfricaCom as an exhibitor, showcasing their Unified Communication solutions.
Oliver Schlögl, Head of Sales at Sipwise, summarizes: "The attendance of Sipwise at AfricaCom 2019 focuses on the development of business communication and connectivity of the rapidly progressing market in Africa. The whole continent is very fascinating and is such a diverse field. We are keen to support the movement of current communication and provide enterprises with tailormade business solutions."
Apart from the C5 Softswitch solution, Sipwise offers appropriate modules that can be integrated on top of the C5, such as C4 Softswitch as media gateway for service providers, Sip:phone for mobile and white-label apps, CPBX for enhanced cloud communication and WebRTC for cloud-based real-time communication. This adaptability can be deployed for African companies and are ready to use on different business types: from smaller enterprises to large corporations (SME).
"We are very excited to meet our visitors at our booth and discuss the significance of investing in Sipwise's scalable technology, what the benefits are, and how it can impact corporations in terms of business expansion," said Oliver Schlögl. "During last year's AfricaCom, we got in contact with a South African company who integrated our services with ease and whom we appreciate to support since day one. AfricaCom 2019 is our next opportunity to tighten our business contacts at the African market and to expand our portfolio."
For more information about the participation of Sipwise at Africa Com 2019, please check our profile at AfricaCom2019. We will be at booth C150 at CTICC in Cape Town/South Africa and looking forward to welcoming you and to discuss the latest trending topics within the field of Unified Communications.
____
About Sipwise
Sipwise unified communication platforms are targeted at fixed converged and wireless service providers supporting a variety of access technologies like Cable, xDSL, FTTx, WiFi and WiMAX, as well as "Over-the-Top" operators.
With years of expertise in VoIP and UC solutions, Sipwise works with clients on all continents and is servicing over 65 Telcos in 25 countries worldwide. Sipwise offers an unbeaten price-to-performance ratio to communication service providers, with ease of integration towards their technical, OSS and BSS infrastructure, as well as outstanding flexibility.
For more information, please visit https://www.sipwise.com.