This year Sipwise was actively participating at the ANGA COM, Exhibition and Congress for Broadband, Cable & Satellite, in Cologne.

ANGA COM ended with an outstanding result of 17,000 participants and was thereof a big success for the organizer as well as for Sipwise!
The booth with 60 sqm was visited by both existing clients and numerous interested prospects.
"Fixed line telephone network was an investment that was not profitable for most cable operators within Germany", stated Atilla Ceylan, CMO of Sipwise. From now on, that is different: with the developed hard- and software from Sipwise also small cable operators can make profits!
"The idea behind the Sipwise Next Generation Communication Platform (NGCP) is the consolidation of typical communication services like telephony, instant messaging and video conferencing with services from the internet.", stated Andreas Granig, CTO of Sipwise.
The increasing interest proves them right.
The pictures are also available as download.
Sipwise war 2013 als Aussteller auf der ANGA COM, der Fachmesse für Breitband, Kabel & Satellit in Köln, vertreten.

Die Messe war mit 17.000 internationalen Fachbesuchern sowohl für die Veranstalter als auch für Sipwise ein voller Erfolg!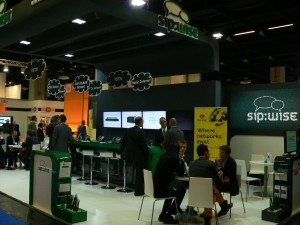 Der 60 qm große Messestand wurde von bestehenden Kunden sowie zahlreichen interessierten Fachbesuchern stark frequentiert. "Festnetztelefonie war bisher für die meisten Kabelnetzbetreiber in Deutschland ein Investment, das sich nicht rentiert hat", sagt Atilla Ceylan, CMO des Telefoniespezialisten Sipwise. Das ist nun anders: Mit der von Sipwise entwickelten Hard- und Software können erstmals auch kleine Kabelnetzbetreiber selbst in das Telefongeschäft einsteigen. "Die Idee hinter der Sipwise Next Generation Communication Platform – kurz NGCP ist die Zusammenführung typischer Kommunikations-Dienste wie Telefonie, Instant Messaging und Video Konferenzen mit Diensten aus dem Internet." so Andreas Granig, CTO von Sipwise.
Und das wachsende Interesse gibt ihnen Recht.
Die Fotos stehen auch als Download zur Verfügung.