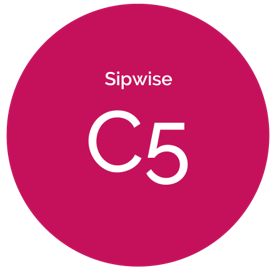 New Release of the Sipwise C5 Class 5 Softswitch
Sipwise is excited to announce the general availability of version 4.5.1 for our core VoIP product, the C5 – Class 5 Softswitch
The most important changes for version 4.5.1 are:
Fax Server – Full carrier support and remote faxes queuing, faxes retain and retrieval support, various fixes and improvements.
Emergency mapping to extend the emergency prefix handling
Additional configuration options for Admin Web User Interface
New Call Data Record functionalities
New lawful intercept mode via a loop over a peering server
The Sipwise C5 Class 5 Softswitch is a highly versatile VoIP Softswitch for internet service providers and telephony providers to serve large numbers of SIP subscribers. The Softswitch provides secure and feature-rich voice and video communication to end customers (e.g. voice, video, instant messaging, presence, buddy lists, file transfer, screen sharing, remote desktop control) and connects them to other SIP-, Mobile- or traditional PSTN-networks.
Sipwise C5 can, therefore, act as open Skype replacement system, traditional ISDN replacement, Over-The-Top (OTT) platform and as a Session Border Controller in front of existing VoIP services to enable signalling, encryption, IPv6 support, fraud- and Denial-of-Service prevention. Another use case is to act as a Class4 SIP concentrator to bundle multiple SIP peerings for other VoIP services.
The Sipwise Class 5 Softswitch has been successfully deployed with more than 65 operators all over the world. It has proven to be one of the most reliable, flexible and resilient VoIP Softswitches in the entire industry. With the C5 Softswitch, any cable operator, internet service provider or telecoms company can immediately start to create competitive communication packages for the residential market as well as for business clients by enabling the Sipwise hosted CPBX module.
For further information, please visit our product page for the C5 Class 5 Softswitch or contact our sales team.